Glory, your name is Gloucestershire
Is there any other county in the country better than Gloucestershire? It has literally everything great about Britain wrapped up in its green and pleasant borders. Just ask the owners of Gloucester Park Homes. If you go to http://www.parkhomelife.com/our-parks/orchard-park-homes-gloucester-gloucestershire/ you can see the wonderful lifestyle the county brigns to people. If you want nature it has it. If you like the thought of a quiet Village life then it has that too. There are bustling Cities and Towns if you prefer a more brisk pace of life and there is plenty of Sport going on with a popular Rugby and Cricket team. What else does this amazing county have to offer the casual visitor looking to possibly stay longer?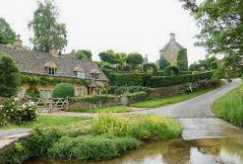 First of all, swathes of the County are a sea of green fields and woodland. It includes the North Cotswolds and most of its southern end too. There is a wonderful walk from Bath in the South up to Chipping Campden in the North, This takes in the most spectacular parts of the Cotswolds and the county as a whole.
There are plenty of little villages, usually with a very nice pub within its boundaries to explore and small market towns, like Tewkesbury and Cirencester, where there are plenty of boutique and mainstream shops to enjoy. There are also plenty of coffee shops and tea rooms to get your breath back and refuel.

Over to the West of the county there is the fiercely independent Forest of Dean. The foresters have always seen themselves as being a bit separate from the rest of Gloucestershire and this picturesque place has its own heritage centre that celebrates the way of life that the free miners and foresters have lived for hundreds of years.  There is now a very strong emphasis on leisure and outdoor pursuits as well as those that are looking to see the history of the area.
In the East you will find the waterparks of the Cerney villages as they sit in the Thames Valley. There are plenty of opportunities to enjoy water based activities like swimming and windsurfing.
The county is also blessed with National Trust land and properties plus there are a few just over the border to see as well. The beauty of the county is that it has brilliant main roads through it. The M5 links the County to the North and the South West, principally Bristol. The A417/419 links the county to the M4 and London.