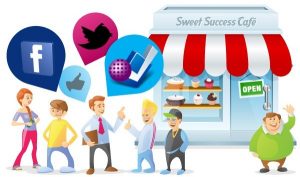 Social Media and Customer Service: When a response on time is a victory
The well-known expression "The customer is always right" now enjoys more popularity than ever. With the advent of social media, clients have experienced a hitherto unknown empowerment, which gives them an authority that is hardly questionable today. They are able to praise a company, growing their reputation online, and the next day make it descend to the lowest levels of credibility. A dissatisfied customer is a destructive weapon of branding, whose potential is likely to increase exponentially if you do not know how to stop in time.
In social networks, in addition, the response time prevails, the immediacy with which communication flows plays against the company, who must be with the radar placed 24 hours a day. Here the customer service is the key to be able to react on time and also to promote customer loyalty.
It is up to the company to create and maintain all the devices at its disposal to avoid and react in time to any type of adverse situation. Here are some tips to establish an effective customer service strategy:
Control the staff and how to act of the team that makes up the customer service department.If necessary, reduce its size. You need perfectly trained and qualified personnel to face your responsibilities. They are, in the first instance, the image of the company and they should be aware of it.
Learn from consumers. Analyze your questions and evaluate what are the most repeated doubts and problems. They are the best source of information; The data obtained is more valuable than any product test. First of all they will help you to detect those weak points of your company, as well as identify trends and new consumer demands. You can use this information to improve your product and create offers tailored to the current needs of your users.
Offers advice within the sales process itself,in the case of ecommerce. Do not consent that, in case of doubt, the client must abandon this procedure to go in search of help. In many cases, you run the risk of losing it. In addition, the convertibility of this type of advice usually has a high percentage, given that the type of doubts that arise are specific to the sale itself. Here the effectiveness of customer service is crucial for the transaction to be successful.
Deploy customer service in all areas,optimize your presence in the various social networking platforms and a very important fact that sometimes goes unnoticed: check that the software you use to manage queries work correctly on mobile devices. How is your customer service? What aspects would you highlight about it?